Mucinous Ovarian Tumour in a Young Patient : Management Perspective
Written by: Sara Nasser. Gynaecological Oncology Subspecialty Fellow at Charite Cancer Centre, Berlin, Germany
Clinical History & Examination
Ms. X is a 15-year-old lady with a normal BMI of 20.5 who presented with a 4 week history of abdominal bloating, intermittend abdominal cramps and a 5 Kg increase in weight over the one month.
She is fit and healthy, has not had sexual intercourse, and is taking the combined oral contraceptive pill to control her heavy periods. 
Ms. X has no relevant family history and has never had any surgeries in the past
Initial Examination:
Abdomen distended, not tender, palpable mass up to 4cm above the umbilicus.

Inspection of external genitalia: No abnormalities

No Speculum and vaginal examination performed.

Transabdominal ultrasound scan: Large multiloculated mass arising from the pelvis, increased Doppler flow. No visible Ascites. Orthotopic kidneys bilaterally. Liver appears smooth with no gross abnormalities.

Biomarkers: 

CA-125: 10.7 kU/L
MRI Scan Confirmed large multiloculated cystic mass arising from the right ovary 34x22x12cm. No other suspiscious lesions intraabdominally.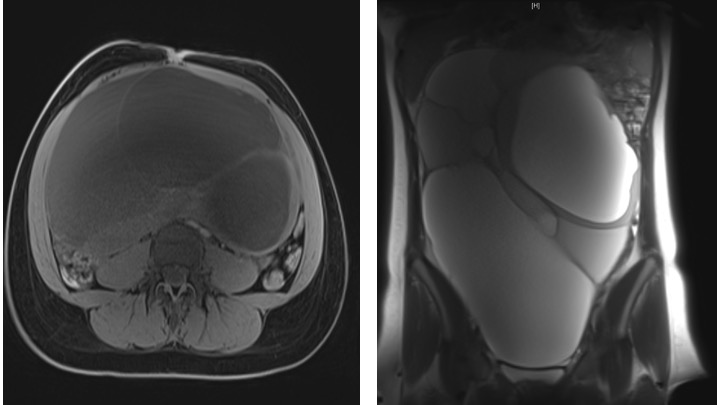 First quiz: who should do the surgery?
She was operated by the paediatric surgeons. Laparoscopic removal of tumour was not possible. A small midline laparotomy was performed. The tumour was removed together with the right ovary and tube (sparing of the ovary was not possible as there was no normal ovarian tissue).
Histology:   Mucinous borderline tumour of the right ovary
In view of the above, the MDT decided to complete surgical staging. She therefore underwent a laparoscopic appendectomy, infracolic omentectomy and peritoneal biopsies. The final histology showed no further abnormalities
2 years later, Ms. X now 17 years old, presents again with a left ovarian cyst found incidentally in routine USS (part of her follow-up). She remains asymptomatic. Her periods remain regular under the COCP. She now has a regular partner. Abdomen was soft on examination. 
USS: 43×26 mm cyst left ovarian cyst
Ca125=10
Second quiz: what do you think this patient should have?
Management & findings of the second presentation
MDT Decision:   Laparoscopic ovarian cystectomy. The surgery went uneventfully. The cyst was removed in toto without rupture.
Histology:   34mm low grade mucinous adenocarcinoma of the left ovary with expansive-invasive growth. The surface of the cyst remains tumour free.
Cytology: No malignant cells.
Low grade ovarian cancer- requires surgical staging (Salpingo-ophorectomy, hysterectomy, peritoneal biopsies).

Fertility-sparing approach in a young 17 year old patient- Retaining of uterus possible, but not of the left ovary.

Possible options prior to surgery:

Cryoconservation of tissue- not recommended from the left ovary due to presence of tumour.

Stimulation and egg-cell harvesting- Possibility. Unfortunately her AMH level was too low at 0.93 for any stimulation to be successful.

Systematic lymphadenectomy- Not necessary in mucinous  low grade ovarian cancer
Comprises 12% of ovarian tumours.
20% of ovarian mucinous tumours are borderline   
77% of ovarian mucinous carcinomas are metastases, 23% are ovarian primary.
Features favoring primary ovarian carcinoma vs. metastasis are:

unilateral
"expansile" pattern of invasion
size > 10 cm
smooth external surface

Two types of invasion; expansile or infiltrative:

Expansile tumours are usually stage I and less aggressive.
Infiltrative tumours  are usually aggressive with poor prognosis
Clinical behaviour
Distant metastases are rare
Survival:

95% for stage I
32% for stages II or higher
Fertility sparing surgery vs. Radical surgery